Impacts of Fire on Stone-Built Heritage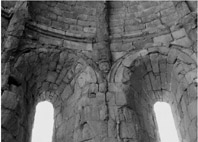 Fire is one of the major threat to stone-built cultural heritage and this    paper is a review of the existing research into fire damage on building  stone. From early research based on anecdotal evidence of macroscopic  observations, scientists have moved on to develop various techniques  for approaching the investigation of fire damage to stone (high-    temperature heating in ovens, lasers, real flame tests), different aspects    of the damage that fire does have been learned from each, developing    understanding of how microscopic changes affect the whole.
This paper, published on the Journal of Architectural Conservation seeks to highlight the need for a greater awareness of the threat that fire poses (and the need to take precautionary measures in the form of fire-suppression systems), of the immediate effects, and of the long-term management issues of natural stone structures which have experienced fire.