Water mist for Protection of Heritage – Cost C17 Final report
In the final Report of the Cost c17 Action different aspects of fire protection of Cultural Heritage buildings have been addressed, as the water mist for fire protection, which at the time was a relatively new technology with specific advantages to the built heritage.
The standard design and manufacturing processes do not currently address heritage applications, but performance-based codes are favourable for introducing new water mist systems. This report establishes the current level of experience, and presents basic information about water mist for the heritage community. The challenges, implications and perspectives of the technology are outlined in order to ensure the best protection of European heritage. A guide on how to accept or approve mist systems in heritage properties is given.
Water mist application is the most subtle method of water extinguishing of fires. It provides a safe and practical environment for rescue work, it protects visitors and staff, and it incurs minimal secondary damage in valid or unintentional activations and substantially removes harmful particles from smoke.
Apart from the above and the general extinguishing capabilities of water, mist applications have several advantages over standard sprinklers, which often justifies a moderate extra cost. Mist systems discharge less water and use small- diameter pipes. Water supplies may not run empty, as do limited gas supplies or other extinguishing media. Water mist may be turned off and on again. Water mist can be used where water was not previously considered practical.
Water mist is used in hand-held extinguishers, fire hose nozzles, small 'stand alone' units, object protection systems, room-filling systems, hand-held impact guns and large water mist impact monitors. Applications include museum vaults, heritage buildings, hotels, churches and art galleries.
Water mist protects from fire by the mechanisms of primarily cooling, inerting and blocking radiant heat. The vapour to air ratio, the enclosure effect and the kinetics and duration of sprays also play important roles. Water mist systems consist of a water supply, valve, pipes and nozzles, and indeed some are so similar to sprinkler systems nozzles that they are interchangeable. However, the water droplets are smaller. Mist sprays are characterized by flux density, momentum, optional additives and spray density. Application methods are termed 'object', 'room-filling' or 'zoned'.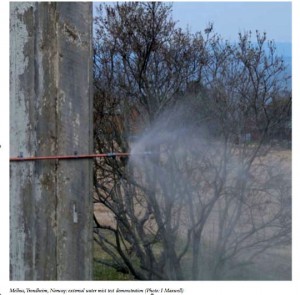 Many features of water mist suit heritage properties: some nozzles are deemed 'sprinkler-equivalent' by standard tests ensuring they are at least as effective as sprinklers and rated or listed for light or ordinary hazard areas where they can be safely used. An extremely water-efficient way of using water mist is fire-spread 'braking' by flashover suppression.
Fine, soft, natural mist droplets in a low density offer optimum cooling performance. By preventing flashover the practical maximum size of fire that may persist in a heritage environment is then kept within the capability of the fire brigade. Subtly applied mist causes the minimum of damage to artefacts and decorations. For even less water consumption, dedicated smoke scrubbing systems are being evaluated for heritage and museum vaults. The best way to avoid smoke damage from established fires is a fast knock-down to stop smoke production. Fast knock-down is accomplished by both high-pressure fine mist and low pressure coarse mist systems, underlining the diversity of mist system designs.
Current development activities include water mains pressure driven systems, water mist in freezing temperatures, flashover suppression systems, stand alone systems, mist systems for listed multi-storey townhouses, pipe-integrated and other 'fitting-less' nozzles. New technologies that may compete or combine with fixed water mist systems are hypoxic air systems, manually operated self-penetrating nozzles and 'un-wet water'.
Water mist systems require attention to details. Proper design, installation, maintenance, and testing are important.Once the reliability issue is addressed and systems successfully commissioned, water mist may even offer improved operational reliability as well as performance reliability over conventional sprinkler systems.